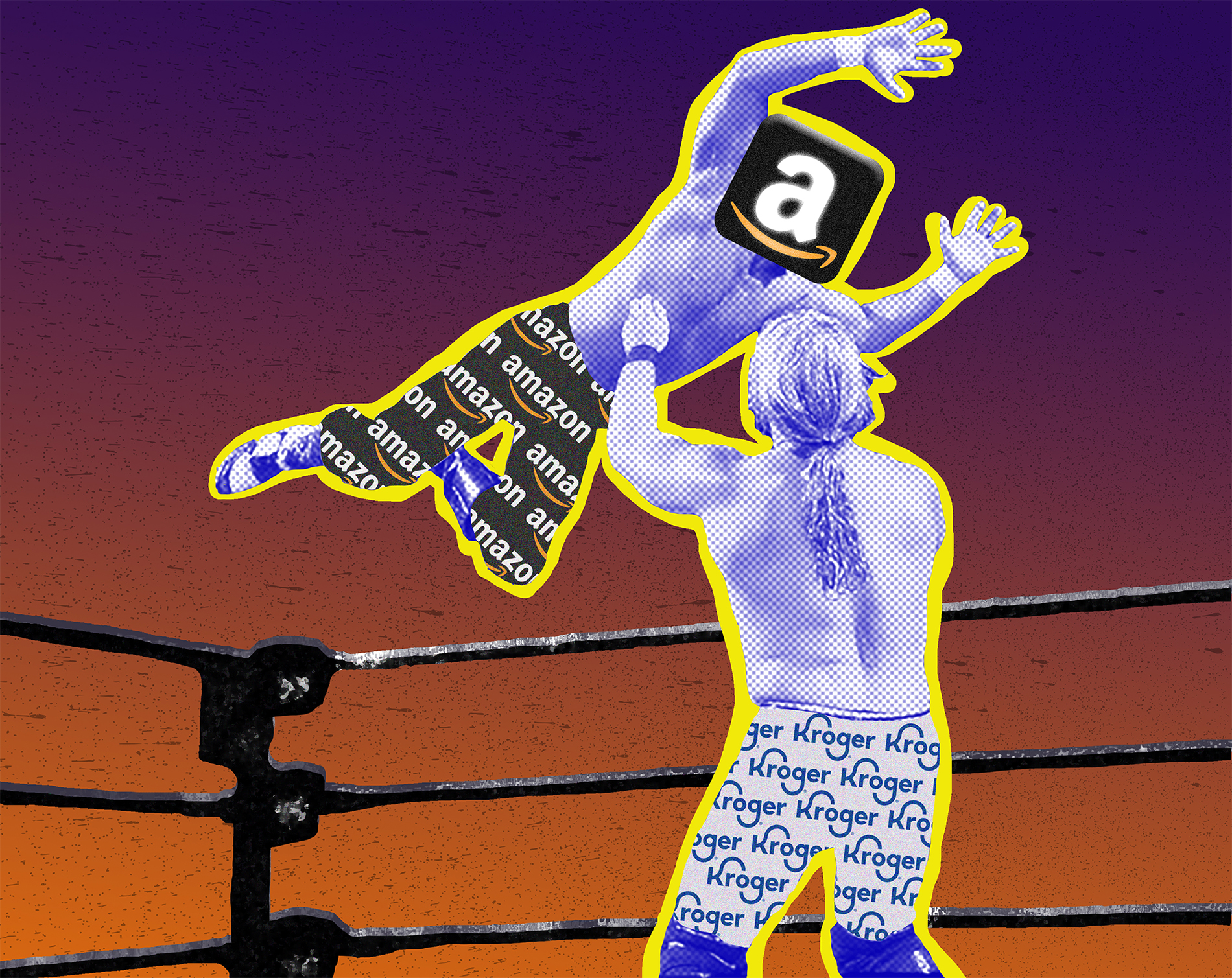 Illustration Noah Lewis
Over the past few weeks, grocery giant Kroger has made flashy investments in delivery technology and in-store renovations in an attempt to boost online sales, which could be its next big source of growth.
The company is trying to its bolster digital business at a time when competitors like Walmart and Target are increasing online sales, and Amazon and Aldi are expanding their brick-and-mortar reach. 
Kroger is competing by leaning on the scale of its vast supermarket footprint in the US. But digital sales growth is still stalling, and investments in tech and digital revenue streams have been slow to materialize any substantial returns. 
Despite digital sales being small, they are a fast-growing portion of revenue for grocers. About 3% of all grocery sales are currently done online. By 2025, online grocery sales could reach as high as 15% of total sales, says Brittain Ladd, a former e-commerce consultant for both Kroger and Amazon. 
Retailers like Walmart, Target, and Aldi have invested in delivery service technology by partnering with companies like InstaCart and Shipt. Amazon has been leveraging its online sales domination to boost its grocery services since its acquisition of Whole Foods in 2017.
"Kroger is in a fight with a three headed dog, named Aldi, Amazon, and Walmart," says Ladd. "Kroger easily can be competitive over the next one to three years, but the problem is Amazon plans in terms of a decade."
Kroger's stock has decreased almost 40% to $29 since 2015, though it got a lift in December when the company reported a 2.5% boost in in-store sales for the third quarter. 
Across the grocery space, the cost of doing business is rising, as a result of increased wage rates and operating costs. Margins are being squeezed, and pressure from discount retailers, like Aldi, is making it harder for giants like Kroger to innovate. 
Kroger is taking small steps by working with tech and delivery startups. Recently, the company partnered with ClusterTruck, a meal-delivery service, testing their products in small markets in the Midwest. Kroger is also testing driverless car delivery with tech partner, Nuro, in Scottsdale, Arizona and Houston, Texas. 
"I think they are doing a lot of test and learn, which is what they should be doing," says Ben Bienvenu, an analyst at Stephens Inc. Bienvenu says they are still in the discovery phase of gauging customers' shopping habits. 
Last year, Kroger made waves in the grocery market by partnering with U.K.-based online grocer Ocado. The deal would build 20 centralized grocery fulfillment centers across the U.S. Six locations have been announced, and the first three fulfillment centers will be operational in 2021. Some analysts think that's not soon enough.
In October, Jeffries downgraded Kroger's stock from buy to hold, citing that the company should have invested in micro-fulfillment centers instead, which can be housed in existing stores by converting unused warehouse space. Centralized fulfillment centers cost more to build upfront – each location is expected to cost Kroger and Ocada around $55 million and take two to three years to complete. Centers also cost more to deliver products due to added distance from existing stores. 
"The cost of the first facilities has been a little bit higher than we originally anticipated primarily due to increased land and construction costs," said Gary Millerchip, Kroger's CEO, at the company's last investor conference in November. "We continue to work with Ocado to engineer the most efficient design, and our analysis still shows we expect a strong return on investment from our investment in Ocado facilities."
Digital sales for the company appeared to be in great shape when Kroger first rolled out its ClickList grocery pickup service in 2016. But in the years since, digital sales growth has diminished. Last quarter, Kroger reported 40% decrease in digital sales growth year over year. 
The digital push comes as Kroger is also facing more competition in stores, which are its bread and butter. Boasting over 2,800 stores, the company's industry-leading private label brands, pharmacy sales and fuel perks keep the grocery giant chugging along. But competitors like Whole Foods and Aldi also plan to invest heavily in physical stores in the new year. 
Aldi recently invested over $5 billion dollars to dramatically increase its store offerings and expand their supermarket footprint in the U.S. The German grocery chain, which shares a parent company with Trader Joe's, already has 1,800 stores across this country, and aims to have 2,500 stores by 2025, which will make it the third largest grocery chain. 
But digital buying options are increasingly important to shoppers, and Kroger is focusing investments to meet that demand. "We continue to invest in digital platforms, as this is where the customers are increasingly going to meet many of their needs," McMullen said on the call. 
Online consumers are increasingly looking for food and general merchandise all in the same place, and Kroger doesn't have the stocklist to meet their needs. Rival Amazon, meanwhile, is making it easier for customers to get everything they need from one location. To boost grocery sales, Amazon recently axed its $15 a month subscription fee for AmazonFresh deliveries. Kroger still charges about $11 per order for delivery.
However, Lauryn Black, a Kroger grocery store clerk in suburban Gahana, Ohio, said the delivery system has helped broaden the store's customer base. Shoppers can schedule  grocery deliveries at their convenience. 
On a given day, Black says the store can get around 60 orders. On busy days, it can reach its delivery limit of 130 orders.
But the system is not without its failures. Black says her store's fill rate, or the percentage of customer demand met by immediate stock availability, is around 90% to 95%. Employees shop for digital customers while regular customers do their daily shopping in stores, and, at times, the inventory doesn't add up. 
"We don't expect things to be out of stock," says Black. "For businesses, if you don't hit that mark then it's a fail. 
To address these stocking failures, Kroger and Walgreens are partnering to pool company resources together to develop a more efficient way of purchasing goods, and make stocking those goods more cost effective. In an industry with tight margins and raising operational costs, the partnership adds some scale and buying muscle to Kroger to better compete with Walmart and Amazon. 
Even with competitors nipping at the heels of Kroger, Bienvenu sees the size and strength of its brand keeping it atop other grocery retailers. He says Amazon has a long way to go before it can truly challenge Kroger in grocery sales, despite its advantage in digital technology. 
"Kroger is so much bigger, they just need to invest in innovation," he said.