The commercial space industry, a market expected to become the next multi-trillion economy by research firms such as Morgan Stanley and Goldman Sachs, is finally taking off and investors are hungry to buy-in. The problem is most companies focused on the new commercial opportunities in space are still private, leaving traders mostly with longstanding defense companies that only designate a small portion of their business to space. 
The one pure-commercial space public play, Virgin Galactic (SPCE), went public in October 2019 at $10 per share, and since then the stock has been on a rollercoaster soaring to $33.87 in February, plunging to $11.93 in March, and then recovering, not without its ups and downs. 
Virgin Galactic's main competitors in the space tourism sector are Blue Origin and SpaceX both of which will remain private for the foreseeable future. Other public companies currently involved in the commercial space exploration territory include Boeing (BA), Northrop Grumman (NOC), and Lockheed Martin (LMT), but space is only a fraction of their business. Their main business and the main driver for investors remains their airplane and defense sectors. 
Bank of America and Susquehanna added the seventh and eighth buy ratings for Virgin Galactic on Monday, driving the stock up nearly 25% to $20.54 per share from $16.43 at open. Bank of America analyst Ron Epstein set a $35 price target which constitutes a 113% increase from it's close on Friday.
"When we think about everything from an operating perspective, a safety perspective, a cost perspective across the board in a market that is as bespoke as commercial space and space tourism they're really leading the charge," said Epstein in an interview with CNBC. "I think on a go-forward basis looking into next year and beyond its an exciting place to be."
Virgin Galactic's futuristic vision of space tourism excites investors who want to buy in while the company is still at a development stage, which means they will have to endure a long period of volatility. Virgin Galactic has accumulated over $80 million in deposits from eager customers, however, they reported no earning in the second quarter. Until they officially begin their commercial business by sending founder Sir Richard Branson on a suborbital trip in the first or second quarter of 2021 it will continue to be very risky. Other more diversified public companies that work in the space sector have a long trajectory of proven work in the field and constitute a much safer investment. Lockheed Martin for instance has been in the field for over 60 years, but their gains in the space sector are small compared to their defense sector.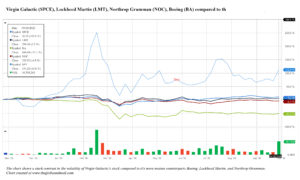 "It's not comparing apples to apples," said  Daryl Genovesi, an analyst at Vertical Research Partners LLC. According to Genovesi, investors of companies like Lockheed Martin, Northrop Grumman, or Boeing are not investing in them as a play on commercial space. "Those companies just don't take any risk, their development programs are generally funded by the government and this is a different choice (…) so it's completely different profiles, completely different sectors of the global aerospace and defense opportunity, it's just not comparable."
Mutual funds such as Procure Space (UFO) help satisfy some of the commercial space appetites. They advertise themselves as the first aerospace and defense mutual fund and have a mix of newer players such as Virgin Galactic (SPCE) and veterans such as Lockheed Martin (LMT). The less diversified companies get more weight, thus ensuring that the fund accurately reflects the performance of space-driven companies.
Maxar Technologies (MAXR) is another space company focused on imagery and data analysis that has been on analysts' radar. It's also one of the companies working on NASA's Lunar Gateway, a space station in lunar orbit. Despite being smaller than its main competitors, Garmin (GRMN) and Trimble (TRMB), it has been spotlighted for its cutting edge technology and focus on the commercialization of space.
While choices remain tight for public equity investors interested in commercial space exploration, there are hundreds of companies currently in development or growth stages just waiting to enter the market once the moment is right. This will all depend on federal regulation which is being shaped on the go and the performance of the leading companies paving the way for them. In the meantime, investors holding Virgin Galactic stock view the company's milestone successes not only as something good for their pockets but also as an advance for humanity. 
Ryan Koltalo, 29, has been buying shares of Virgin Galactic with every paycheck for about a year. He is most attracted to the company because of its disruptive technology, his fondness for Branson, and the still accessible price per share. Koltalo's goal is to reach a position of 500 shares before Sir Richard Branson is sent to space.
"If something goes wrong next year and Richard Branson blows himself up, that company's going to zero or like 2 dollars so it's a really risky play," said Koltalo "but if he goes into space, and makes it back, that company's going to be huge and that's awesome, I want to be a part of that."