By K. Jared Wright
Casinos are re-opening for business amid COVID-19, and the legalization of sports betting in over half the country has business booming. Casino stock prices are set to soar in conjunction with the re-openings as the legalization of sports betting opens pathways for lucrative partnerships with major league teams.
Casino stocks have staged a stunning recovery from their pandemic lows with Caesars (NASDAQ: CZR) and Wynn Resorts (NASDAQ: WYNN) showing the most impressive gain. Caesars made an astronomical jump from its pandemic-low of $8.82 to its current price of $112.35 while Wynn fell to a pandemic-low of $51.97 and as of Friday's close is trading at $82.88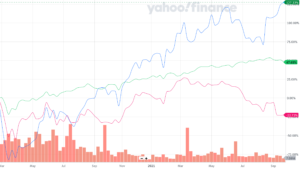 Caesars has joined Wynn in the S&P 500, as five gaming companies have now been added to the index.
Activity surged throughout the COVID-19 pandemic as new investors utilized numerous fiscal stimulus packages in part to invest in the market. Moreover, a large number of these new investors were said to be sports bettors who were looking to use their money to wager differently by investing in the market, as sports were not being played as the pandemic began.
"Caesars is essentially just 100% pure play regional in Las Vegas gaming markets. It also has the largest loyalty membership database that they can use to cross sell between people that are going into the physical casinos to get points for using the online platforms and vice versa," says Dan Wasiolek, senior equity analyst at Morningstar, explaining why a company such as Caesars is positioned better to thrive over some competitors in this new space.
Domestically and abroad, sports betting has shown it has a place in the market, even in the brief time casinos have sought to find that place.  As sports betting becomes more common,  investors potential worries may subside, and the numbers we are seeing may very well be the norm moving forward.
"​​iGaming names have rallied during the last month, and we expect this to continue as investors become more comfortable with upcoming revenue estimates given aggressive marketing, superior product and overall better media/betting integration," Macquarie's September iGaming report said. "We estimate that football accounts for 35-40% of the annual revs, although most of this comes in 4Q (~33% of annual revs)."
Forecasts for how successful sports betting will become is varying considerably, given that states are implementing legalization at different paces.
While the market is speaking out that sports betting will cause these casinos to spike, some investors are pumping the brakes, not utilizing them for long term gains.
Reddit user Hubers57 acknowledges the potential the casinos can have as sports betting becomes a bigger part of the casino industry but finds capitalizing off their turbulence in the market to be more advantageous.  "It's an emerging industry so there is large growth potential. Rather than pick companies and hold them I'd rather profit off of their volatility in the belief that Short term sentiment will make up for any csps that go against me," Hubers57 says.
The NFL is reaping the benefits of sports betting legalization, entering partnerships with numerous sportsbook operators.  Additionally, Caesars Sportsbook has entered into the first partnership with a major college athletics program in Louisiana State University.
These new streams of revenue are opening doors for lucrative opportunities down the line, but are costly now.
"Caesars has said they're going to spend at least $1 billion in the next two or three years on their digital platform, and that's a notable amount where they've kind of said they expected this is going to be unprofitable in the near term," Wasiolek says.
Wasiolek cautions that this is a new space, and while the early numbers are promising, Casino companies are still familiarizing themselves amongst stiff competition in a growing market. Furthermore, he says immediate revenue is not in the cards as some companies are investing in marketing, reaping the benefits of sports betting as a more long-term profitability venture.
"Gaming companies realize this is a multi-billion-dollar opportunity. I think maybe when you talk about momentum and risks, we think we factor in that competitive dynamic in our models, but it could be that investors maybe aren't realizing just how competitive it is."