Pat Elliott 
Nate Chapman was laid off from his job at a rental car agency in March 2020 as a result of COVID-19, just days before the federal government suspended payments on student loan debt. The move came in the knick of time because his loss of income meant he had no way of meeting his $220 per month student loan payment. 
 "You forget about that payment, and then it weighs more heavily when you're out of work," said Chapman. 
After nearly a two-year pause, federal student loan payments are set to resume on Jan. 31, 2022. It will also mark the end of zero percent interest rates on federal loan payments. Hopes for yet another extension were dashed in August when Secretary of Education Miguel Cardona stated that the fifth extension would be the "final extension."
For many, the freeze was a welcome relief and gave recent graduates some breathing room. Borrowers could still make payments, but just 1.11 percent of all borrowers felt financially secure enough in a pandemic to do so without interruption. "It became the last priority for me while I was out of work, I just had bigger fish to fry," said Chapman who graduated from college in 2018.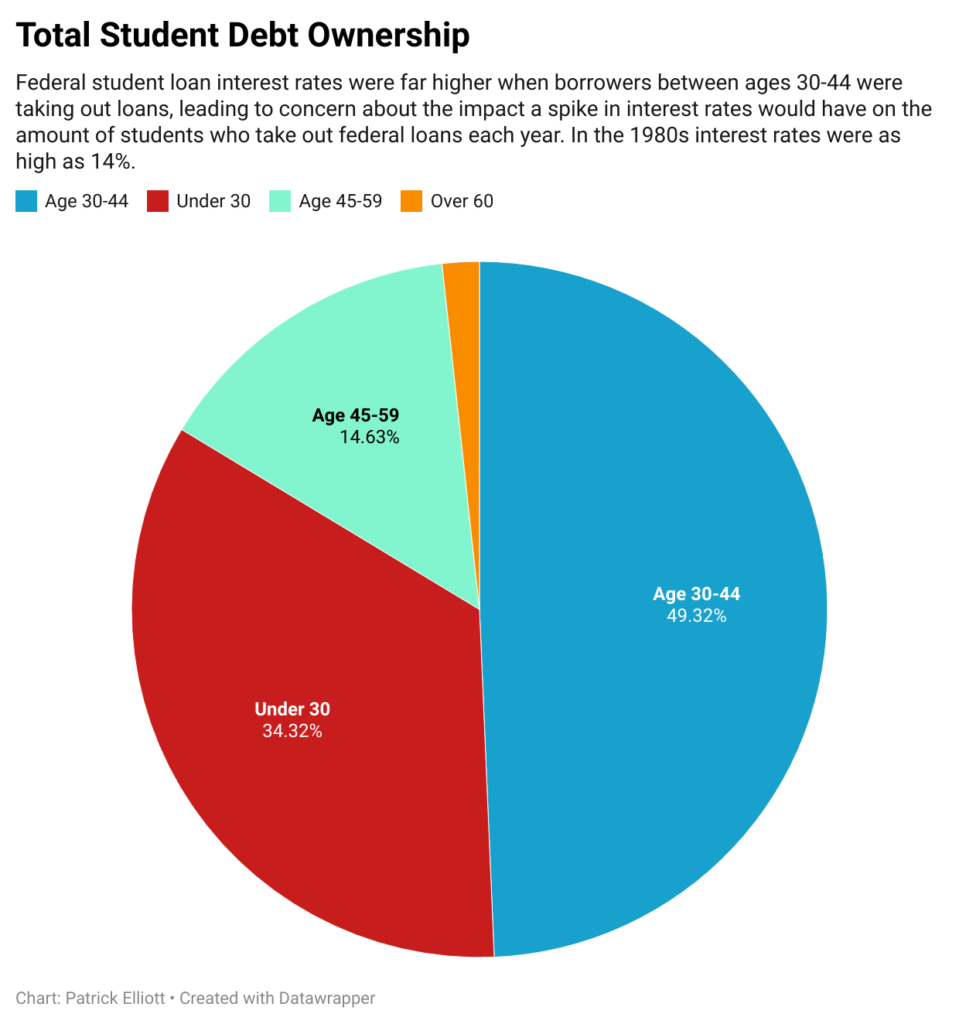 Having returned to work last September, Chapman is taking advantage of the zero percent interest rate by resuming payments and paying double the monthly amount whittling his outstanding balance.. 
"I would say pay what you can now," said Chapman. "I am trying to make up the difference for not paying last year, and doing so now is best because of what interest rates are." 
The past two years have essentially been an extension of the six-month grace period which is already offered to federal borrowers at graduation. That grace period is intended to serve as a holdover for students as they look for a job, and get their expenses in order post-graduation. Federal borrowers who graduated in 2020 and 2021 have not yet been required to make payments, with 2019 borrowers having only made a few payments so far. That all changes on January 31.
Many current borrowers have not made payments because they hoping that a federal student debt forgiveness program will be enacted under President Biden. It was one of the central campaign promises from the current President to lower student debt with the progressive caucus of congress lobbying the Biden administration to cancel outstanding federal loan debt for many current borrowers.
Financial advisers say that is a risky assumption. While President Biden has canceled some debt already, he has not done so broadly and no signs point to an immediate forgiveness solution. In addition, current interest rates make a strong argument for those to not wait and hope for federal intervention. 
"The reality is that the current payment options incentivize those who can pay, to do so," says Chris Varella, Founder of Varella Financial. Varella advocates for those who currently owe both federal and private lenders to take advantage of the interest rates being offered. 
"Obviously at a federal level, interest rates are as low as they will go, which has encouraged private lenders to provide competitive refinancing and payment options," said Varela. 
Varela encourages those with loans in the private sector to explore refinancing options that mirror what the federal government is offering. 
Almost 53 percent of borrowers are eligible for refinancing. Private lenders recognize that federal borrowers have less incentive to refinance and may offer better options than a year from now. Current refinancing rates range between 2.25 and 12 percent, typically interest rates will be lower if a borrower has a co-signer like a parent or a spouse. 
Experts also agree that those with federal loans are better off waiting to refinance until the interest rate and payment freeze ends. "If you are borrowing federally and your interest rate is at or near zero percent you really have no incentive to refinance until February," said Varella. Zero percent interest rates are essentially rock bottom, so why give that up? 
"For those with federal loans now is the time to pay off larger, more pressing debts and bills or the time to build up your savings when payments eventually resume. If you can, the occasional payment is not a bad idea." Often borrowers take out multiple loans, but not all loans are created equal, so make sure to see what differences lenders have in regards to interest rates and payment options. 
91 percent of student loan debt is owed to the federal government. Should debt forgiveness be enacted through the government, private loans or those refinanced privately would likely not be covered. 
Additionally, it is far more likely that a debt forgiveness program would cater to those of a lower income or have a percentage or forgiveness cap. Those borrowing for medical school are not going to be viewed in the same light as those borrowing for community college. 
Neil Levine spent 20 years in college financial aid before transitioning to being a family financial planner, specializing in college planning. Levine has clients with graduate school loan debt in excess of $300,000. 
He suggests graduates consider employers who offer loan payment programs or matches in a similar style to retirement benefits. "Lawyers and doctors know they will be able to make these payments because often their employers have programs for this," says Levine.  He suggests to his clients regardless of their profession to look for job opportunities that offer them or ask their current employer if there are outlets for it. 
Levine sees ways for borrowers to find ways to make payments that will not upend their month-to-month budget. He suggests trying to reinstate a spending cut that most people adopted to save money during the pandemic or was eliminated from the shutdown. Another way could be tax returns which often result in a decent refund for recent graduates. 
Vienna Schmidt's tax return helped cover what was equivalent to six payments of her loans in 2021. Schmidt graduated college in 2019 and had just started making payments, she credits her tax return as a minimally disruptive way to continue making payments despite being furloughed twice during 2020. 
"It was a bummer to lose out on that refund, but it was a big weight off my shoulders, I will do it again next year," said Schmidt. She believes if she can employ the same strategy she will be able to have her federal loan paid off in the next six years. 
She credited meeting with a financial advisor earlier in the year for getting her on her current repayment plan. "Meet with someone who can help now, because I had attractive refinancing options because the freeze is still in place." Even getting a few payments in order ahead of the resumption of payments could put you ahead of other borrowers.